Take control of your attitude
Cheerfulness is just as contagious as surliness.
Have you noticed that when you're around grumpy, complaining people, it's hard to stay cheerful? Their mood and attitude infects you and, if you're not careful, you end up complaining and moaning too.
But … being with a group of happy, friendly people gives you a lift.
A smile is as infectious as a scowl.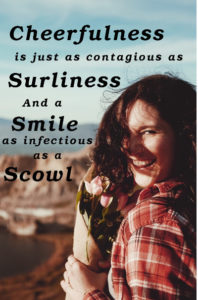 ---
Without being aware, it's easy to allow other people and circumstances to control your mood.
Moods are highly contagious.
Our mood also has an effect on those around us. If we're in a bad mood it shows on our face and in our posture. When we're happy and cheerful it shows in our actions and expression.
Our mood affects our attitude. Mood is the emotional or feeling state. Attitude is our bearing. The way we walk. The way we talk. Our posture.
When we're in a bad mood we scowl. In a good mood we smile more readily.
And the amazing thing is …
It works to other way too. Always! Our attitude affects our mood. Change our attitude and we change our mood.
Walk tall. Shoulders back, head up, a sparkle in our eye and a spring in our step. This will never fail to improve our mood.
By consciously controlling our attitude we can create a more enjoyable life for ourselves and those around us.
Take a couple of minutes to listen to one of my favourite songs. Johnny Reid singing "Today I'm gonna try to change the world"
---
We can never know the ripple effect of our actions. Greeting our neighbour with a smile. Taking the time to talk with a stranger. Little acts of kindness that can change our world and theirs. And we will never how far-reaching our influence may be.
William George Jordan says in "The Majesty of Calmness":
"The only responsibility that a man cannot evade in this life is the one he thinks of least,–his personal influence. Man's conscious influence … is woefully small. But his unconscious influence, the silent, subtle radiation of his personality, the effect of his words and acts, the trifles he never considers,–is tremendous. Every moment of life he is changing to a degree the life of the whole world. Every man has an atmosphere which is affecting every other. So silent and unconsciously is this influence working, that man may forget that it exists."
~William George Jordan
As Mr Jordan said, each of us has an atmosphere which is affecting every other. By choosing our attitude we can change our world.
It's my choice. Today I can try to change the world.
Richard.