3 Things We Can Learn From Ebenezer Scrooge
It's a personal tradition of mine that, every year, a few weeks before Christmas, I read Charles Dickens' little book "A Christmas Carol". After reading it this year, I decided to share 3 things I learned about Christmas.
It's never about the presents.
We ask children "What did Santa bring you?"
We take them to visit Santa in the shops so they can tell him what they want for Christmas.
We're all about the presents! And we teach our kids that Christmas is all about the presents.
Look around you in the shopping mall at Christmas. You don't see much Christmas cheer. Many people look like they would rather visit the dentist than do Christmas shopping.
Now, don't get me wrong. I don't want you to think I sound like Scrooge. I love giving gifts. And I'm sure you do too. The trouble is that we feel compelled to buy gifts at Christmas. And no one likes feeling forced to do something.
We need to shift our focus on Christmas away from the presents.
Associate with happy, cheerful people.
"Oh! but he was a tight-fisted hand at the grindstone, Scrooge! A squeezing, wrenching, grasping, scraping, clutching, covetous, old sinner!" — This is the Scrooge at the start of the story.
Contrast that with the Scrooge we see with the Ghost of Christmas Present. When the Ghost takes him to his nephew's house, Scrooge tries to join in their games, forgetting that they can neither see nor hear him.
This former "grasping, clutching old sinner" was enjoying himself so much "that he begged like a boy to be allowed to stay until the guests departed."
"Here is a new game," said Scrooge. "One half-hour, Spirit, only one!"
If we want to be optimistic and cheerful, it's important that we surround our self with like-minded people.
Christmas is a state of mind.
Scrooge promised the Ghost of Christmas Yet to Come "I will honour Christmas in my heart, and try to keep it all the year."
And as Norman W. Brooks put it:
Christmas is forever, not for just one day.
For loving, sharing, giving are not to put away
Like bells and lights and tinsel, in some box upon a shelf.
The good you do for others is good you do yourself.
---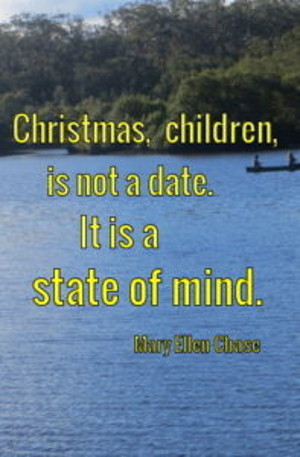 ---
Merry Christmas, no matter what time of the year you are reading this.
To download an ebook of A Christmas Carol, right-click one of the links below and select "Save as". It's available in PDF format and also, thanks to the amazing work by the folks at Project Gutenberg, as an epub.
A dramatic reading of the book by the awesome people at LibriVox is also available for download here:
A Christmas Carol — AudioBook.
And, finally, here's a link to an old black and white movie. Click the link and you can watch the movie online or download it to your computer.
A Christmas Carol — 1951 movie.
Enjoy.
Richard.